72 Hour Guide: San Francisco
Oh heyyyy - it's the FIRST weekend guide of 2019! I made a promise to Basically Soho that I would travel to a new destination every month this year. Well - that did not happen in January, because "birthday month" - BUT, I was able to get to San Francisco the first weekend in February. Yay! #smallwins
San Francisco: I have to be honest, it wasn't my favorite place when I was there a few years ago. I found it to be a very casual and sometimes, gritty, city. A true laid-back and relaxed style is very off brand for me. Also, I can't even have the conversation about how aggressive the homeless people are, because I don't want to - and this blog sometimes sees the world through rose colored glasses, and there are no homeless people when you look through the lens of BS (Basically Soho) - SO this trip was a long weekend filled with lots of fancy cocktails, amazing food, a great hotel and a touch of tourism. I am breaking this guide down by day, in hopes that if you too are a bit "extra", it may be possible to find a bit of FANCY in San Francisco.
DAY 1 - FRIDAY
I've said it before and I'll say it again to all you New Yorkers who read this blog. If you're not using Good Luck car service - you're overpaying for convenient airport transportation. I was traveling sans insta husband for this leg of the trip so ease and efficiency was KEY. I took the first Delta flight out, because "we loyal" to an airline now - (finally) - and got to JFK in no time. Also, if you haven't signed up for Clear yet, do it. With all the extra time I had after breezing through security (thanks to Clear) I was able to use our new perk with the Delta reserve credit card - free Delta Sky club access. See, traveling alone is a breeze. I also had the ENTIRE row to myself - a true luxury that has never EVER occurred in my life because traveling with Pete means an eternity of middle seats. Not this time kids: I literally was stretched out the entire way, I still dream about it to this day. I landed safely and ubered to the Fairmont in Nob Hill.
THE FAIRMONT SAN FRANCISCO/ NOB HILL
I really loved it here guys. Side note: when you google Nob Hill - this is what you get "Once home to the mansions of the Big Four railroad barons, Nob Hill retains a sense of wealth and privilege. Some of the city's swankiest hotels are here, as are the ornate, Gothic-style Grace Cathedral and charming Huntington Park. Steep streets are dotted with restaurants and nightspots like the Top of the Mark lounge, with its 360-degree views. The Cable Car Museum exhibits antique cars alongside live machinery." —— *me - SOLD!!!!
The Fairmont was perfectly located, traditional and iconic, soothing, obviously Le Labo is the best hotel toiletries brand ever, and even though I could not convince them to upgrade us to the iconic "blogger balcony" room for free, I think they took pity on me. They kept us in a standard room, BUT one with an awesome view. #smallwin or paid for my Pete (still unclear) - we also got 20% off of all food and cocktails consumed at the Fairmont. Another great perk.
FERRY BUILDING MARKETPLACE
It's cute: we walked around, I didn't buy anything - all I got were some failed photo opps of me walking by some fruit stands and with men in Patagonia jackets in the background (see photo below). Things started looking up when we got to the next stop.
COQUETA RESTAURANT
I've been up since 3am and it's finally time for wine and Spanish tapas - what more could a girl want?!
What to get: bite size skewers, patatas bravas, deviled eggs and a bottle of red.
And, guess what's next? More cocktails!
CHARMAINE'S AT PROPER HOTEL
Just loved it here. I imagine it is even better when you can enjoy the outdoor areas (it was chilly and rainy when we went).
What to get: Tito's martini straight up with extra olives (and a bottle of wine)
And, guess what's next? More wine (halp)
BAR CRENN
IT'S FANCY, like NYC fancy, like the cheapest bottle of wine on the menu is $120 fancy. I LOVE IT HERE. There are chandeliers and white fur seating, it's literal San Francisco heaven.
What to get: whatever you can afford
And…… Friday is finally over and we CRASHED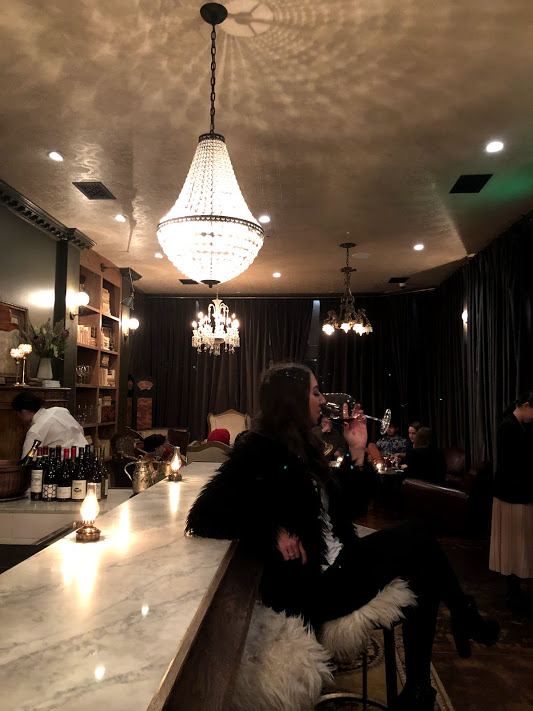 DAY 2 SATURDAY - WE NEED EXERCISE, AND TACOS
We worked out at the Fairmont hotel gym, which was dismal, but got the job done. We also had coffee at Caffe Cento, connected to the hotel, and they have the best chorizo and egg sandwich. If you're craving a tasty morning dining experience - definitely get it.
TACOLICIOUS CHESTNUT STREET LOCATION
Loved it here. The Marina district is so cute. We sat at the bar, the service was great and the crowd was young and fun.
What to get: tacos and a beer.
But - now it's time for CHAMPAGNE
THE RIDDLER
It's on every "most instagram-able" places in SF list ever made. Yes, it's a champagne bar but bubbles give me headaches so red wine it was (shocker, I know). They have the cutest decor and free popcorn. Give me a glass of red, a bowl of popcorn and a chic outfit and "it's handled"
AND THIS JUST IN - they are opening a location in NYC in the West Village - YESSSS
MEDIA NOCHE
Eating again! Media Noche was another "most instagramed" list find, but was a double win because we love a good Cubano sandwich. The best one is at The Ritz Carlton Ko Samui, the second best is Cafe Habana in NYC, this one ranked third for me - a bit too heavy on the mustard - in my opinion.
Order the El Cubano, take photos of the adorable tile floor and the iconic banana metallic wallpaper in the bathroom.
TARTINE MANUFACTORY
Super adorable open space - pop in for a beer and an app.
DUMPLINGS AT CHINA LIVE
Really cool space with great dumplings and wine
COCKTAILS AT THE TOP OF THE MARK
At the top of the Intercontinental hotel - stop here for amazing views of the city, great cocktails and live music. I also highly recommend the margherita flatbread.
We also stopped into the lobby bar at our hotel on Saturday night, which was equally as lovely with great service, drinks and more live music.
DAY 3 SUNDAY AT MUSEUM OF ICE CREAM
I did it for the gram! Such a cute exhibit with delicious ice cream treats along the way and all the photo opps. The good news is that you don't have to stop at each station, so if you happen to get stuck behind a group of annoying people (which we did) you can easily scoot in front of them, get your photos - and get out.
THE TONGA ROOM
Located inside the Fairmont, this place really embraces a theme. The experience was fun, the food was okay, the cocktails were hilariously on brand. There is a rain shower that occurs every 30 min over the pool in the center of the restaurant, in addition to live entertainment. Definitely an experience, definitely a must-see.
DAY 4 MONDAY LUNCH AT SOUVLA
Located on Hayes Street - loved the vibe in here, the decor and the branding.
What to get: avgolemeno soup, greek fries and the chicken salad
Hope this guide left you feeling inspired to take a trip to San Francisco!
Feel free to leave any questions / comments below!
xo,
Basically Soho